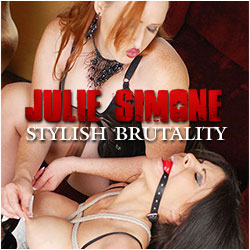 Julie has been a photo and video model for 14 years, has appeared in over 350 videos, served as a bondage consultant for mainstream films, appeared on G4TV's "Attack of the Show" & Playboy TV.

Along the way, she started to rig others & was voted the 2nd Best Rigger in 2003 before reaching her goal of Best Rigger in the World in 2004.

Now we are proud to have her on our site as a regular featuring artist in a lot of different settings, showing our lucky girls (and you - the users) the ropes.